Call Portos Painting & Maintenance
Excellent Wyong Painters
We Can Help You!
Are you a resident or business owner in Wyong? Portos Paints provides superior residential and commercial painting services throughout the Wyong and surrounding regions with the highest quality workmanship and standards. As a Wyong strata painting services company, regardless of how small or big your project is, we have a specialised team that excels at every form of strata project. When you decide to modernise your paint job, it is important to work with a Strata painter with a strong background in Wyong Strata painting and management. Our choice and manner of approaching work processes allow us to deliver exceptional results with anti-graffiti paintings, wall paintings, driveways, and common room areas consistently for the last two decades. Our strata portfolio covers all types of multi-residential living including single level, multi-level modern high rises and retirement villages. 
Our team are professional painters who are highly experienced in managing both small and large scale strata painting. Our painters are licenced and certified for practice all over Wyong and surrounding areas. Our industry experience over the last two decades has afforded us partnerships that facilitate and help produce a smooth-running project. Portos Paints and Maintenance is your local painting specialist Wyong. With a proven track record, we boast of not just painting projects but delivering a wholesome experience that meets and exceeds the expectations of clients. As a team, we have mastered a variety of designs that apply to both the exterior and interior of residential, commercial and strata buildings. The commercial painting Wyong team gets the job completed with your specific requirements in mind, so you're guaranteed the right advice and a quality finish every time.
Juan painted the exterior of my house in Long jetty last week and what a fantastic job he did! He was very professional, got all the materials required. left the place spotless! I am so happy with the result. Will definitely use him again.
Our Central Coast Painting Services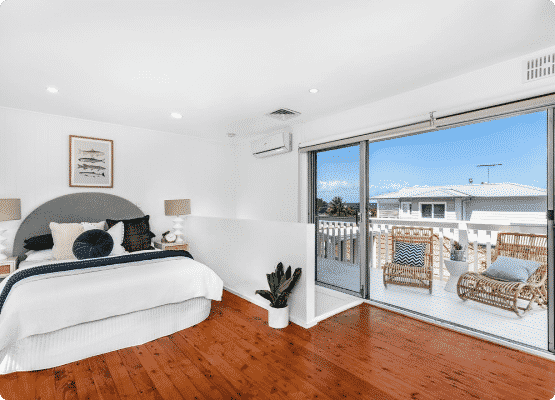 Repaint
Bedroom ceilings and walls repainted in Gosford NSW.
Repaint
Living Room ceiling, walls and wood trim repainted in Naraweena NSW.
Wyong Painting Services That We Offer:
Portos Paints offers our customers a myriad of high-quality painting services. These services include, but are not limited to:
– Strata Painting Wyong: Are you a strata manager or real estate agent looking to maximize the value of your property? Our skilled team of professional Wyong painters are readily available to turn your ideas into reality by offering a range of professional services.
– Timber Oiling Wyong: You don't have to break the bank to have quality Timber oiling services in Wyong. Irrespective of what you seek to achieve, our team of professionals will work well within your budget to achieve the best possible result.
– Spray Painting Wyong: We deliver on the very latest residential or commercial painting designs for just about every project you could have. Give us a call today to get a free quote.
– Exterior Painting Wyong: It is often said to never judge a book by its cover, however, this is not true when it comes to properties. An appealing exterior look sparks the curiosity of any prospective buyers.
– Commercial Painting Wyong: Position your firm for advantage with professional painting services Wyong. We offer commercial painting services ranging from exterior painting, strata painting services to intricate interior designs of your commercial building Wyong.
– Residential Painting Wyong: Portos Painters are specialists in interior and exterior painting of home-based projects in Wyong. Don't sweat the process by hiring an unqualified Painter. Hire a professional painter Wyong today.
Why Choose Our Wyong Painters?
– Why choose us? You deserve the best value for your buck and as professionals, we leave nothing behind in delivering a remarkable customer experience and exquisite paint jobs. We are Wyongs top choice painting company for interior painting service and exterior painting service Wyong. Over two decades in the painting industry, we have unbeatable experience and have solutions for all sorts of painting projects, whether it is a commercial or residential painting project in Wyong, our team can get the job done right. Whenever you need to hire commercial or residential Wyong painters to work with and around your home or commercial buildings, if you choose us you will not be disappointed!
– High-quality painting services: We embody a high quality of standards,  professionalism, quality customer experience, and integrity in our work. Your satisfaction is our satisfaction!
– Licensed and insured painters:  When you choose the Portos Painting and Maintenance services, you are choosing a professional painting company Wyong that has been around for over two decades and cares about your project. Our crew are fully registered, licensed and fully-fledged members of the Master Painters Association in Australia.