Call Portos Painting & Maintenance
Excellent Gosford Painters
We Can Help You!
Portos Painting and maintenance is an incredibly well-known and well-recognized residential and commercial painting company, providing our painting expertise to the entire Gosford area. Portos Paints is a full-service interior and exterior Gosford painting company that has been providing the highest quality of services to the citizens of Australia for years. Our Gosford painting experts and professionals will always be able to listen carefully to each and every one of your concerns throughout your painting service, providing honest and fair responses whenever we are asked to. Portos Paints is made up of fully licensed and insured painters who will only focus on high qualified works that will result in full and complete customer satisfaction. We excel at the interior and exterior painting services Gosford, taking care of residential and commercial properties.
A professional quality paint job from the professionals at Portos Painting and maintenance will instantly boost the resale value of your residential household or will make your commercial business look more welcoming to any customer who may be deciding whether or not to walk through the front door. Hire us as your Gosford painting company, in order to receive the best painting job for the very best price within the entire surrounding area.
Juan painted the exterior of my house in Long jetty last week and what a fantastic job he did! He was very professional, got all the materials required. left the place spotless! I am so happy with the result. Will definitely use him again.
Our Central Coast Painting Services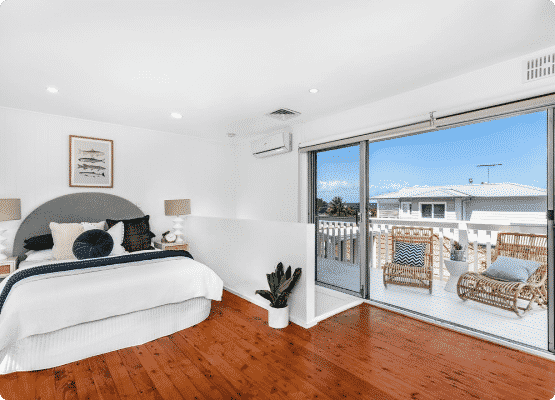 Repaint
Bedroom ceilings and walls repainted in Gosford NSW.
Repaint
Living Room ceiling, walls and wood trim repainted in Naraweena NSW.
Services that are offered by Portos Paints:
Portos Paints offers our customers a myriad of high-quality painting services. These services include, but are not limited to:
Strata and real estate Painting Gosford
By including a fresh coat of paint in any residential house or commercial building that you are trying to sell, real estate agents will have a much easier time trying to sell the properties that they are in charge of. When you choose Portos Paints to care for your real estate painting needs, you are investing in the aesthetic value of the property that you are eager to sell. We are committed to helping you refresh any residential or commercial property that you may be managing, assisting you in the complete transformation of the property that you are selling within the Gosford area.
Spray Painting Gosford
The professionally trained painting experts at Portos Paints offer our customers a wide variety of painting services. One of these services is spray painting. No matter the spray painting needs, we are able to accomplish it with complete authenticity and thorough experience.
Exterior Painting Gosford
If you are yearning for the outside of your residential household to look as good as it does on the inside, then give the painting professionals at Portos Painting & Maintenance a call today! Deciding to rely on our painting services can make a huge difference in how your home looks and feels to you and your loved ones. To ensure that you are completely satisfied, rely on our exceptional exterior painting services. Regardless of how much of your home's exterior you would like to have painted, we are happy to complete the job for you. No job is too big or too small when you are dealing with the Gosford painting experts at Portos Painting and Maintenance.
Commercial Painting Gosford
Could your commercial business building use a fresh and new coat of paint, in order to look as if it just opened its doors the day before? From industrial buildings and high rises to educational facilities and community office buildings, the Gosford painting professionals at Portos Paints can paint any type of commercial property. We can assist you in attracting brand new customers, making your storefront appear incredibly bright and welcoming. Through our unique and specialized commercial painting services, Portos Paints will help to give the exterior and interior of your business an overall improved atmosphere, making for content employees and happy customers.
Residential Painting Gosford
If you are seeking help with your residential painting needs, then look no further. Portos Paints can assist you in making your residential household look completely brand new and transformative.
Why Choose Portos Paints
Portos Paints takes great pride in the number of successful painting services we have provided to the Gosford area. There are a number of great reasons that truly back up why we are the most well-known and best-rated painting company in Gosford. These reasons are:
Portos Paints have over two decades of painting experience.
Our qualified painting services are of incredibly high quality from the very beginning of the project to the end.
Our painters are fully licensed and insured, as well as being fully-fledged members of the Master Painters Association in Australia.